Dr. Phillips Homes for Sale in Orlando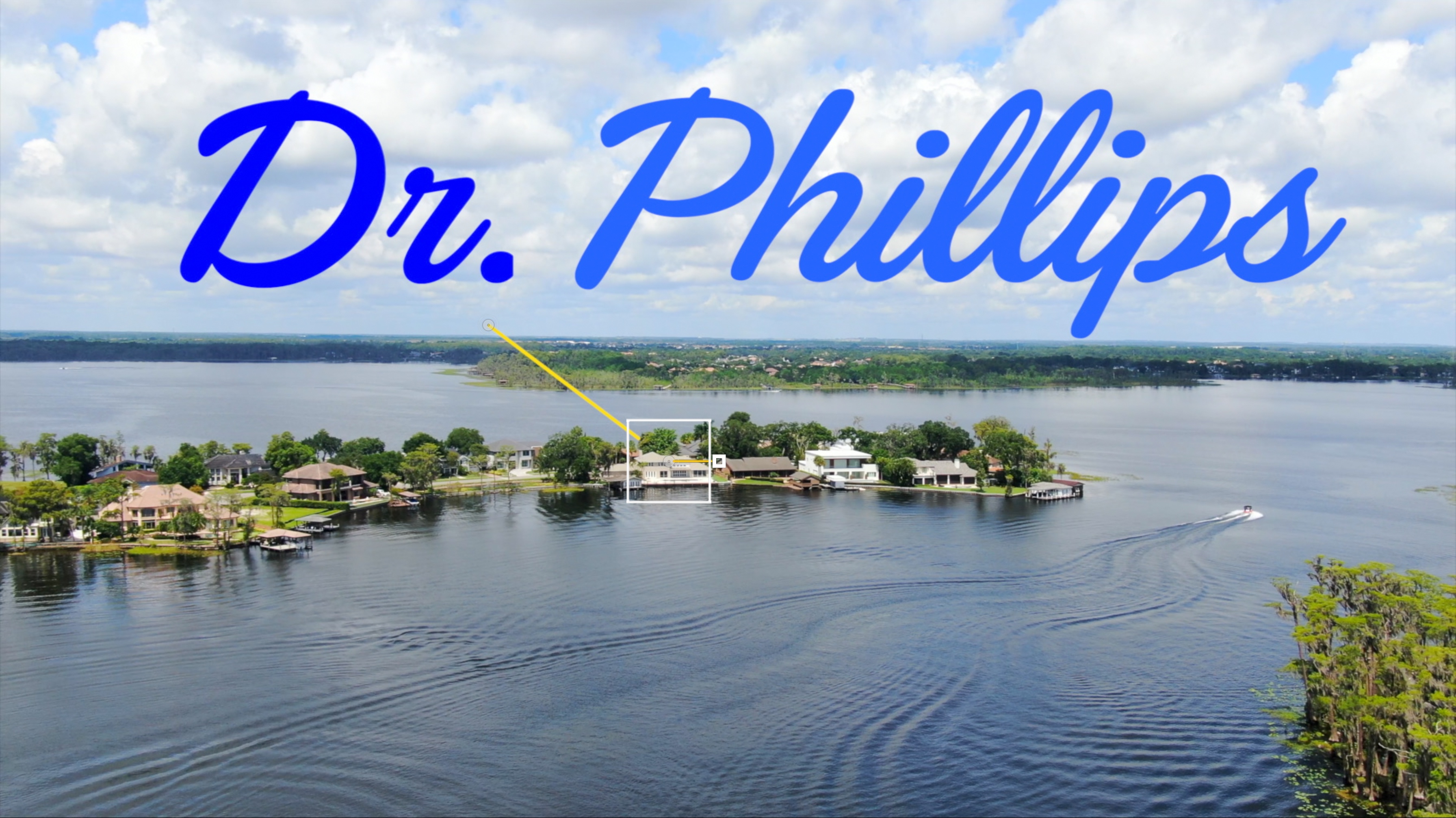 Dr. Phillips Orlando
Dr. Phillips Homes For Sale
Overview of Dr. Phillips, Florida
Nestled in between Disneyworld and Universal, Dr. Phillips is known for its abundance of restaurants, bars, shopping, and the Butler chain of lakes. Dr. Phillips used to be thousands of acres of orange groves but now is filled with sprawling upscale communities that have no problem supporting the Whole Foods, Trader Joe's and beautiful shopping malls.
If you are considering Dr. Phillips homes for sale, you will find a wide range of properties. There are many different styles of homes in Dr. Phillips, from expansive lake-side megamansions owned by the likes of Shaquille O'neil the NBA superstar and Joey Fatone from the boy band N'Sync. As well as townhomes, condos, golf course homes and well manicured neighborhoods with more affordable single family homes. The area is popular with young professionals, families, successful business people, and celebrities. The area's vicinity to the theme parks, abundance of stunning freshwater lakes, as well as its endless shopping and dining opportunities make it one of the most sought after areas in Central Florida.
When looking for Dr. Phillips real estate for sale that offers easy access to everything Orlando has to offer, this might be the neighborhood for you. Dr. Phillips, Florida is ideally located and with so much offer.
Things to Do in Dr. Phillips
Dr. Phillips is an iconic and trendy area in Orlando. Whether you prefer shopping, eating, golfing, wakeboarding on pristine freshwater lakes, or enjoying quick and convenient access to more than 10 theme parks, Dr. Phillips has it all. Well known to Orlando residents for 'restaurant row' and I-drive, which each boast an enormous selection of restaurants, bars, clubs, shoes, and so much more.
From elaborate mini-golf courses, Mario Andretti's go-kart racing facility, dinner shows, comedy clubs, Top-Golf, SeaWorld, quick access to sports stadiums, shopping malls, Ripley's Believe it or Not Emporium you'll never run out of interesting things to do in the area.
Dr. Phillips boasts an astounding 224 restaurants, 3 movie theaters, 5 shopping malls, and innumerable events at the 30+ venues in the area. As well as a variety of nice parks, dog parks, and natural areas to enjoy.
There is something for everyone in this thriving area of Orlando.
Parks in Dr. Phillips
Some of Riverside's greatest amenities are its parks so it is essential to find the perfect property for sale in Dr. Phillips, Florida. The area boasts Bill Frederick Park, Dr. P Phillips Community Park, and Shadow Bay Park. These parks are the perfect places to enjoy nature while taking in a picnic or watching your children play.
Bill Frederick is the largest park in Dr. Phillips at 183 acres and offers fishing, boating, a playground plus cabin and tent camping. Bill Frederick Park also has a dedicated drone flying area, grills, hiking, pavilions for bbq's, disc golf, volleyballs, swimming pool, bike trails and boat rentals. It's a great area for families to thrive with nearby houses for sale in Dr. Phillips.
Dr. P Phillips Community Park is another amazing park that provides an opportunity for community events, basketball courts, playground areas, picnic areas, and two dog off-leash play areas (one for small dogs and one for large dogs).
Dining in Dr. Phillips, Orlando
Dr. Phillips is perhaps best known for its dining opportunities with its beloved restaurant row and iconic I-Drive. You will find an abundance of shops and restaurants in Dr. Phillips that offer a variety of dining options from fine dining to diner food, cafés, and fun themed bars with exciting dinner shows. Dr. Phillips real estate for sale is popular with foodies just for the upscale dining options.
From high-end, white tablecloth establishments to local, hole-in-the-wall cafés and diners, Dr. Phillips offers a little bit of everything delicious. You will find a great selection of places to eat ranging from neighborhood staple, Tu Tu Tangos for gourmet tapas to Fresco Cucina Italiano for the area's best Italian wood-fired pizza.
Nightlife in Dr. Phillips
Enjoy a cigar and whiskey at Corona Cigar Company with its selection of the finest handmade cigars, among former NFL stars and prominent local businessmen. Or maybe you're looking for something a little more wild? Head over to Mango Tropical Cafe, where they have regular dinner and shows after which it turns into a vibrant night club.
There are many bars and pubs in the area. Some of the more popular places include Rocco's Tacos with its amazing decor, delicious tacos, and excellent tequila menu, as well as The Whiskey, an original spot for a variety of, you guessed it, whiskey. It also has regular live music and creative hamburgers that
Whether you're looking for 4-star Michelin star cuisine, a fun place to take the family for dinner, or just want to grab a bite with friends, restaurant row in Dr. Phillips is a hidden gem tourists rarely discover but locals love to enjoy.
Schools in Dr. Phillips
There are a variety of public and private schools available for you to consider when buying real estate in Riverside including Dr. Phillips Elementary School, Southwest Middle School, and Windermere High School.
Housing Market in Dr. Phillips
Dr. Phillips is home to an array of real estate, making it one of the most popular areas in Orlando. There are many different housing styles including mediterranean, modern, transitional, as well as an abundance of lakefront and golf course homes.
When you buy a house in Dr. Phillips, you will always live within close proximity to downtown, restaurants, shopping and what Orlando is most known for, the theme parks.
In Dr. Phillips the median home sold price is $755,000 with a median home listing price per square foot of $273.
Hire a Trusted Realtor in Dr. Phillips, Florida
These are all great reasons to discover homes for sale in Dr. Phillips. Whether you're considering buying or selling your house fast in Dr. Phillips, it's best to hire a professional and experienced Realtor who can help you understand the process, and work to assist you in getting you the best deal or the most for your home. Hiring a realtor in Dr. Phillips is in your best interest and will ultimately lead to an easier experience whether you're looking for houses for sale in Dr. Phillips or selling your house in Dr. Phillips, working with or selling your house with a Realtor is a smart decision.
Get access to accurate MLS listings, market trends, school information, and more! If you want the best realtor in Dr. Phillips, Contact Me today and let me help you!
To get updated subscribe to our
Market Insights